When winter hits Atlanta, commercial property managers are used to an occasional light snow in the evening with little accumulation, maybe a dainty dusting that softly caresses the landscapes and hardscapes in a veil of wintery white. As temperatures warm up to 60 degrees the next day, the snow melts. By 5 p.m., the storm is just a memory.
But every few years, the Peach State gets hit with a Snowmageddon that cripples the city. The accumulation is minimal compared to what the northern U.S. is used to, but for a place not accustomed to dealing with Mother Nature's colder, more frigid tendencies, it's enough to confuse and challenge businesses and commuters unprepared for driving on icy highways or clearing their parking lots to provide safe access for shoppers and visitors.
Winter 2013-2014 brought one such storm — and it brought Atlanta to a standstill.
When winter storm emergencies happen in Atlanta, having a reliable partner to trust for quick and efficient snow and ice removal is crucial—no matter if the storm is a dusting or one of these more intense storms for which Georgians are rarely prepared. With a team equipped and on-call 24 hours a day, seven days a week, HighGrove Partners' commercial snow removal services can benefit any Atlanta commercial property manager impacted by a winter storm.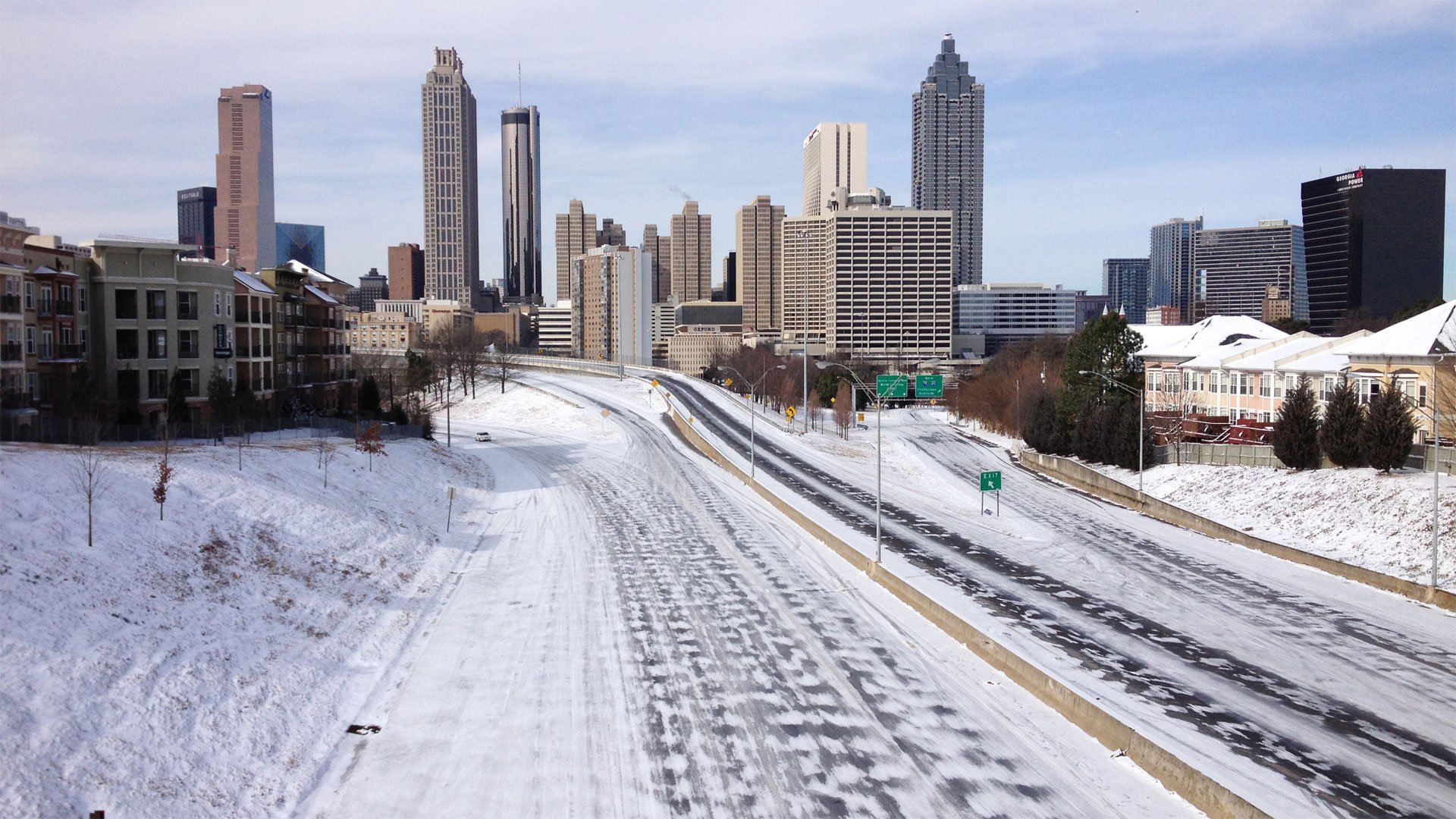 Atlanta's Infamous Winter Storm Of 2011
It started simply one Sunday in early January 2011. A very slight thaw was followed by more snow, and very quickly Atlanta roads and parking lots collected 3 to 4 inches.
Luckily, the HighGrove commercial snow removal services crews were out by mid-afternoon Sunday cleaning up the developing snow and applying deicer to the ground to melt any developing ice.
By later in the day Monday as a result of cold temperatures, more snow fell on top of what was now black ice where snow wasn't cleared. Driving became hazardous with commuters attempting to get to work.
The storm continued, and for an entire week, schools and some businesses and even highways were closed; the city nearly shut down. A 15-mile drive took two to three hours. Emergency facilities and others required to stay open 24 hours were in desperate need to clear their access so employees could get in.
As one of the only commercial snow removal services in Atlanta with the equipment do to the job, HighGrove Partners had been out daily since Sunday with their snowplows and deicing products. By getting ahead of the storm, they were able to reach every client's property before the weather became more difficult to navigate. By the end of the week, HighGrove Partners' crews had applied 120 tons of deicer to Atlanta commercial properties and increased its snow removal contracts by three times.
Clients were thrilled with the swift response, especially as they witnessed how those less prepared for the storm suffered greater losses. The HighGrove Partners team was "responsible, hard-working and dependable," said Lezly Tyler, general manager of Jones Lang LaSalle Americas. "We have not received any complaints from our tenants in regards to the safety of the parking lots, and I believe that is due to the efforts of your team and our engineers."
Partnership was a common theme among client compliments, where banding together to get safely through the snow and ice storm was much appreciated. "Thank you to you and your team for all of your help during this snow emergency. You've been an amazing part of our team in helping to keep our property and tenants safe," wrote Stacey Milam, senior property manager, Cousins Properties. "We look around at other properties with all the snow and ice still on their walks and roads and know how fortunate we are to have a partner like HighGrove Partners."

Prevention and preparation are key to commercial snow and ice removal
Severe winter storms can pose a serious threat to businesses—from shutting down operations to heightened risk of slip-and-fall accidents on stormy days.
Being proactive and prepared for Mother Nature's mood swings is the best way to get swift service when snow and ice accumulates, and safety and liability issues become potential threats to business operations.
For its metro-Atlanta maintenance clients, HighGrove Partners offers commercial property managers the ability to add snow and ice removal to their contracts in October. This enables these clients to be top priority when the white stuff starts falling and temperatures dip below freezing. Getting in the queue early gives property managers the peace-of-mind that their site will be one of the first on the list for immediate commercial snow removal services when wicked winter weather strikes.
Having a contingency budget for unexpected storms and snow and ice removal is vital for property managers who want to be best prepared for the season. Since there is no cost until an actual snow and ice event occurs, this budget can be saved for possible storm solutions or, in the case of a light winter, utilized for other important landscape and property renovations come year-end.
Managing snow and ice during harsh winter conditions is challenging work for commercial property managers, involving long hours, logistical management, knowledge of the weather and significant costs for equipment, materials and manpower. Fast, efficient and professional commercial snow removal services can keep your Atlanta-area commercial property safe and accessible in the winter.
HighGrove Partners' snow and ice removal crews are equipped with state-of-the-art vehicles and tools, as well as the staffing capability to ensure your entrances, parking lots and sidewalks are cleared.