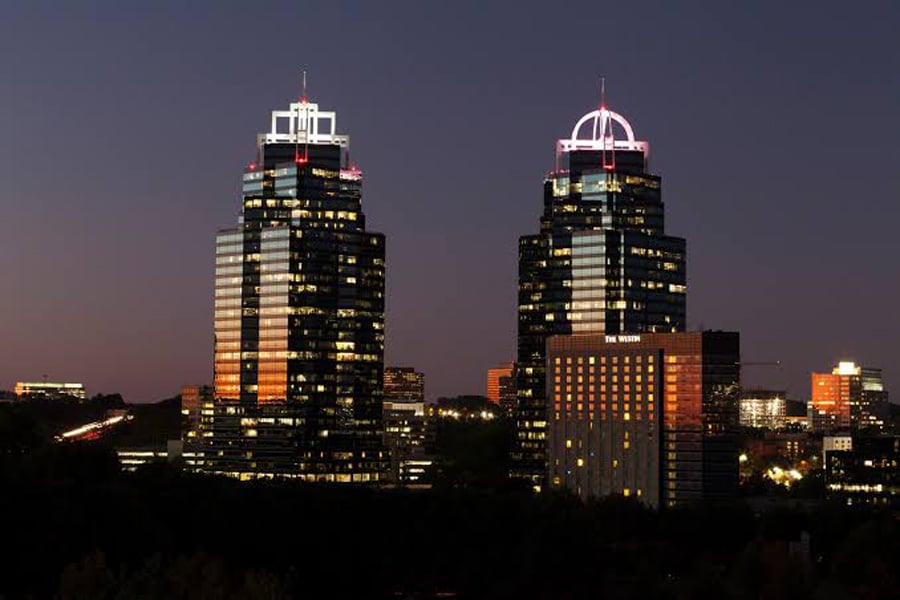 Ask anyone about the vista in the suburban Sandy Springs, Georgia, approximately 15 minutes outside of downtown Atlanta, and they won't hesitate to mention Concourse Corporate Center's iconic King and Queen towers that rise up with their intricate, white lattice crowns resembling the heads of royal chess pieces.
At 570 feet and 553 feet to their spire tops, respectively, they're the two tallest suburban buildings in the United States, as well as the 14th and 17th tallest in metro Atlanta, and are positioned in the heart of the Central Perimeter. They offer an unparalleled presence in the skyline. Needless to say, a place with so much attention garners a focus on outdoor features that accentuate these notable buildings and put an extra polish on the property.
HighGrove Partners has had the honor of maintaining this property since 2009.
The office component of Concourse Corporate Center contains 2.16 million square feet of class-A office, made up of five buildings ranging from 4 to 33 stories, and including the iconic King and Queen towers.
Centered around a beautiful lake, Concourse sits on a 63-acre campus-like, beautifully landscaped development, which also includes concierge services, a full-service Westin hotel, an 80,000-square-foot Concourse Athletic Club and a KinderCare daycare facility. To top it all off, the property is surrounded by an outdoor walking/jogging trail and includes an 11-acre development site.
Needless to say, there's a lot to manage on the entire property.
Regent Partners, the project management company for Concourse Corporate Center, employs Ornamental Landscape Management (OLM) to help them manage their landscape services. The company puts together their requests for proposal and invites companies to bid on the work based on a thorough review process. Landscape companies have to have a good track record to be invited to bid on the RFPs OLM releases. HighGrove was invited to bid on Concourse Corporate Center's RFP in 2009, and they have won every three years since. "OLM is prominent in the area, and the company has been involved at Concourse for a very long time," explains Gib Durden, HighGrove Partners' vice president of business development. "OLM likes our company, business model and pricing, and they felt we had a good track record in the area."
Shining Atlanta's Crown Jewels
HighGrove Partners handles all of the exterior maintenance at Concourse Corporate Center, including:
Regular mowing and trimming
Fescue maintenance
Tree, shrub and groundcover maintenance
Seasonal color installations
Seasonal plant and perennial maintenance on more than 70 beds
General site maintenance: daily trash, weed control and debris disposal
In order to keep such a detailed eye on property specifics, HighGrove employs one full-time on-site gardener on the property, as well as a part-time on-site gardener. A support crew reports weekly for regular mowing and edging. In addition to regular maintenance, HighGrove maintains a focus on continuously improving the property through landscape and irrigation upgrades.
Caring for Concourse Through The Years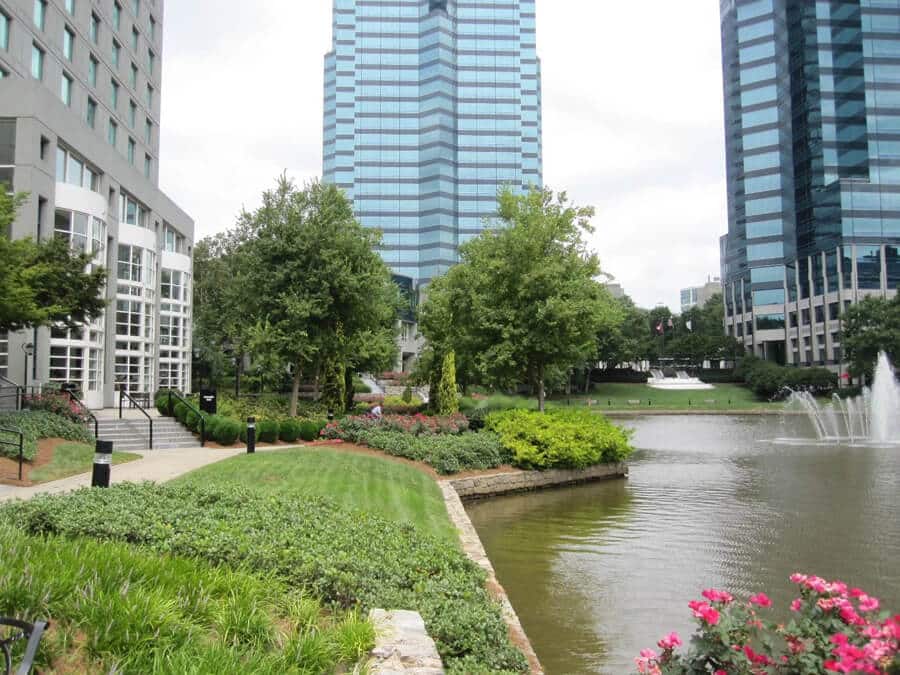 Concourse Corporate Center was built in the 1980s, and home to trees that have grown large since inception. When HighGrove first started maintaining the property, company representatives identified areas on the site that seemed dark as a result of excess shade. HighGrove thinned out the trees and plant material, simplifying the landscape. They were then asked to draw focus by adding extra color to key areas, such as near signage, entryways and pedestrian walkways. Approximately 70 percent of the brick paver path that walks throughout the property has a covered pathway; seasonal color beds along the walkway near benches added additional areas for tenant enjoyment.
Another area of the property that was suffering from wear-and-tear, over the years, was the tile steps leading to building entryways. Where grout started to wear, tiles began to shift and come loose. HighGrove upgraded the deteriorating stairs, replacing them with customized granite steps. This is currently being done in stages, firstly by tackling the areas most in need to keep the property up-to-date and safe for all tenants and visitors.
When inclement weather arises, HighGrove provides Concourse with snow plowing and tree pruning and/or downed tree removal where necessary.
Bow to the King & Queen
Because Concourse Corporate Center is large and also very busy with multiple office buildings and tenants, there is always movement happening on site. This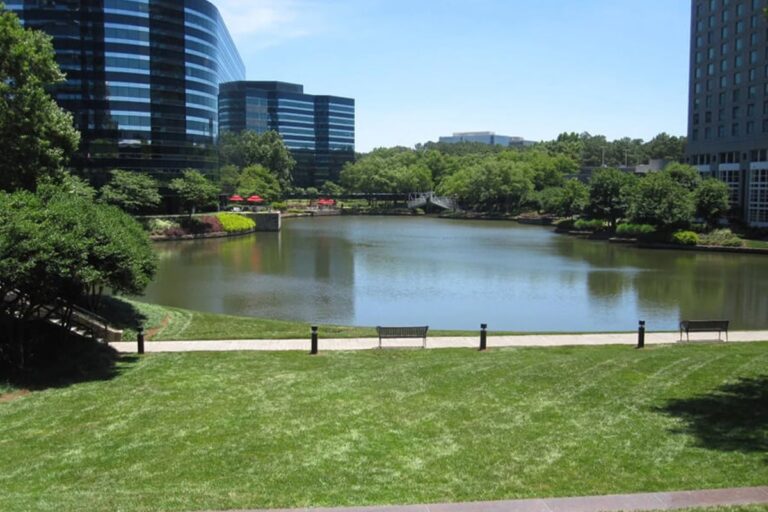 means HighGrove crews must always be aware of their surroundings, paying attention to heavy traffic times, such as the morning and evening rush hours, as well as lunchtimes. As a result, they must schedule their maintenance accordingly as not to collide with these hours.
HighGrove's attention to detail, plus proactive scheduling and care, make a great match for meeting Concourse's high standards.
We Can Make You Feel Like Royalty, Too!
HighGrove Partners can customize a landscape maintenance and management plan specific to your site.
Give us a call today at 678-298-0550 to discuss how you can become a member of our royal family of clients.